Practical steps to Increase Your Website Domain Authority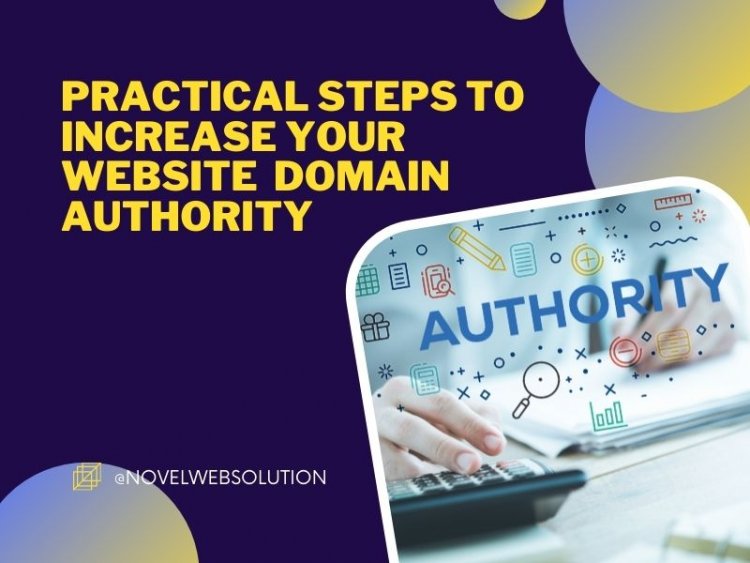 Practical steps to Increase Your Website Domain Authority
A number of your websites represent the Domain Authority (DA). Your chances of appearing higher in search engine result pages (SERPS) and receiving more organic traffic increase as your domain authority rises.
Moz pioneered the Domain Authority measure, but other organizations have developed comparable metrics that evaluate domains based on various characteristics and provide a score from 0 to 100. PageRank, which was created by Larry Page (one of Google's founders) and is still used to estimate the value of webpages and websites, gave rise to the notion of ranking domains based on their Authority.
What is a website's domain authority (DA)?
A website's DA is a value that ranges from 0 to 100 (more remarkable is better) that attempts to forecast how well a page will rank in search engines. It's not the same as Google's PageRank ranking score, which may genuinely affect your ranks. Moz (and other da checker programmes) are attempting to imitate Google's ranking algorithm by considering all known criteria that may influence rankings and assigning a score to domains that can only be used for comparison.
To put it another way, the DA is based on the information Moz has about your website, which isn't always as reliable as the information Google has. It's common for a domain to have a low Domain Authority but still rank well in Google.
You should also be aware of the following facts regarding DA:
Google fines aren't factored into the DA. A domain that has been penalized by Google would automatically drop ranks, although Moz may not be aware of this. As a result, although the Domain gets penalized, its domain authority will remain high.
Working on Off-Page SEO is a must.
The most significant measure is your link profile. A website with a robust and clean link profile will have a better DA score than a poor link profile.
What is the definition of a strong link profile?
A strong link in a website profile indicates
It contains incoming links (backlinks) from websites with high Authority.
Incoming links come from websites that are relevant to yours.
Must never contact broken links.
It features links from a variety of different domains.
How to raise the quality of your backlinks?
Off-Page SEO refers to tactics for acquiring high-quality links that can help you boost your rankings. To boost your Domain authority and strengthen your link profile, you'll need to do the following:
First, remove any links from your profile that you don't want people to see.
Remove any links that are no longer functional. This procedure entails locating harmful connections using a programme such as Moz Explorer or Semrush.
You can then contact the website's proprietors and request that the link be removed or the "nofollow tag" be added to devalue the link.
If that doesn't work, you may use Google's disavow tool to get the links removed from your profile.
1. Search Engine Optimization (On-Page)
By working page SEO it helps in increasing your domain authority.
The term "on-page SEO" refers to the process of optimizing your page and content.
My in-depth SEO video shows how to optimize your on-page SEO in great detail, but the most important criteria are:
Titles and descriptions that are optimized
Use of headings (H1 and H2) in your content URL structure, as well as SEO-friendly permalinks.
SEO Image, video, and other media components optimization Including keywords in your article in a natural way (no keyword stuffing) Incorporating internal connections into your content (this is an effective SEO technique)
Formatting your content in such a manner that it ranks higher in Google's highlighted snippets is a good idea.
2. Concentrate on technical SEO.
Technical SEO is concerned with low-level SEO duties, and you shouldn't have to deal with it again after you've gotten it right the first time. However, if your website's technical SEO isn't up to par, it can significantly influence your Domain Authority and ranks.
You should double-check the following necessary SEO settings:
First, register your website using Google Search Console and Bing.
Make your XML sitemap, optimize it, and send it to Google.
Check your robots.txt settings and utilize Fetch as Google to guarantee that Google and other search engine spiders can easily explore your site.
Add structured data (schema) information to your website by moving it to HTTPS.
The following are some of the reasons:
Searches on mobile devices currently outnumber searches on desktop computers (about 60 per cent).
Mobile-friendliness is a ranking criterion (for appearing in Google's mobile results) for most consumers who start their search on mobile and subsequently continue on desktop.
Google is developing a mobile-first index, which will exclude any websites that are not mobile-friendly.
It's a must to have a mobile-friendly or responsive website version.
If your website isn't already mobile-friendly, the best place to start is Google's Mobile-Friendly Test.
Google will provide you with a comprehensive analysis that includes suggestions for making your website mobile-friendly.